October 7th 2022 Air Works Auction
Woodworking Division
GPS Location: Sprunger Building 13071 Emerson Rd. Apple Creek OH 44606
Friday October 7th
Table Saws; New Cantek TA12, 12" table saw, 5 hp, 230v 3 ph; New Cantek TA10-5, 10" table saw, 5 hp, 230v 3 ph; New SCM SC2 Mini Max table saw w/5.5' sliding table and scoring blade, 220v 1 ph; New SCM Nova 400 10' sliding table saw w/scoring blade, 230v 3 ph; New Oliver 10040 10" table saw w/36" fence, 115v; SCM SL12 5.5' sliding table saw, 230v; Powermatic 66 table saw, hyd; Like New, General 850M1 table saw w/smart auto fence system, 230v 1 ph, modified fence will cut 16", sells off-site, ships from WI, will palletize and load for free up to 14 days after auction; General 650R table saw, 3 hp, 208/230v 1 ph; Delta unisaw w/sliding table, 3 hp, 230v 1 ph; 2 Powermatic 10" table saws, 5 hp, 230/460v 3 ph; Shop Fox sliding table saw; Powermatic 66 table saw, lineshaft; Panel Saws; Midwest Automation 4010 panel beam saw, 230v 3 ph; Taylor 330020 opti-sizer, 440v; Straightline Rip; 2000 Northtech SRS-300 straightline rip saw w/laser, hyd; Northtech NT-SRS-12NS straightline rip saw, 230v 3 ph; Cantek R18 straightline rip saw, no motor; Gang Rip; Mereen Johnson 419DC gang rip saw w/4 moving blades, 480v 3 ph; Grizzly G0503 12" resaw, 230/480v; Raimann KM US gang rip saw w/quick fix arbor, 460v 3 ph; Cut Off Saws; Porta Cable abrasive cut off saw, 120v; Black & Decker radial arm saw, 220v 1 ph; Paul Maxi 4.0PT chop saw, electric; Omga radial arm saw; 2018 Omga Optima 60 optimizer chop saw, 6 hp, excellent condition; Bandsaws; Jet JWBS-14CS 14" bandsaw, 110v; Shop Smith table saw bandsaw combo; Craftsman 12" bandsaw, 110v; Planers; New Stonewood ST20AH 20" planer w/spiral head, 230v 3 ph; 2014 Northtech NT-610SC-I double surface planer, cardan shaft drive system, 40 hp top 30 hp bottom, 460v; Northtech 2073 20" planer, 230v 3 ph; Buss 55 double sided planer; Powermatic 15 planer, 220v 1 phase; Jointers; New Oliver 4225 jointer w/6" spiral head, 115v; Delta 6" long bed jointer, electric; Reliant 6" jointer, 110v; Delta 8" jointerShapers; New Stonewood JY-305P shaper w/1 ¼" spindle, 220v 1 ph; New Stonewood JY305P shaper w/1 ¼" spindle, 230v 3 ph; Cantek shaper, 1 ¼" spindle, 220v 3 ph, w/220v 1 ph power feed; Rye R72 copy shaper w/dual cutters, 10 stations, hyd; 4 Weaver shapers, 460v 3 ph; Beach shaper, 1 ¼" spindle, 220v, 3 ph; Minimax T-40 shaper w/sliding table, 230v 3 ph; Delta 43-379 shaper, hyd; Pin Routers; Her Saf 144 panel router, 110v; Moulders; 1997 Weinig P23E moulder, 9" w/5 heads, 1.5" spindles, 230v; Weinig Rondamatic 960 profile grinder, 230v; Nielson 45 profile grinder, 220v; William & Hussey molder on stand, 230v 1 ph; Weinig 6 head molder, 460v; General I head molder, hyd; Lathe; New SCM T124 wood turning copy lathe w/tool rest, loaded, 220v 1 ph; Drill Presses; New Oliver 10062 drill press, 115v; Craftsman 15" drill press, 110v; Craftsman 150 drill press, 110v; Power Feeds; Grizzly 3 roll power feed; Weaver power feed, 110v; Edge Sanders; New Powermatic 1791282 edge sander w/9" x 138" oscillating belt, 230v 1 ph; Delta 6" edge sander, 220v 1 ph; Flatmaster surface sander; Profile Sanders; Larick 360A edge profile sander, 110v; Like New Dutchman's handi-sander; Drum Sander; Custom drum sander, air; Wide Belt Sanders; 2005 DMC, TSK1350M2 wide belt sander, double head w/programmed computer, new reader bar, 460v 3 ph; Precision 37-7510 wide belt sander w/37" x 75" belt, 460v; 2010 Extrema XS-2837 double head wide belt sander, hyd, air & 110v; Boring Machines; Blum hinge boring machine, 110v; Grass 413.00.01.00 boring & inserting machine, 220, 440v, 3 ph; Castle LB30 line boring machine, hyd; Kreg DK1100TP Kreg machine, air; 2 = Kreg DB-50 pocket hole machine w/extra bits, air; Tooltech MH3 hinge boring machine, manuel, 110v; Gross uni-press hinge boring machine, 220v 1 ph; Dovetailers; Dodds SE15S dovetailer, 15 spindle, automatic, belt driven; Dodds SE-1 dovetailer, hyd. and air; Central Machinery Co. 600 & 601 dovetailer, hyd; Omec 750 dovetailer, single spindle, hyd; Brookman dovetailer, 480v 3 ph; Mortise & Tenoners; Unique 310 double end cope machine, 230v 3ph; Match Maker Freud router on stand; Norfield door machine; Face Frame Tables; New Stonewood 4008 face frame table, 4' x 8' w/3 pneumatic clamps; New Stonewood 4008 face frame table, 4' x 8' w/4 manual clamps; Sanding Tables; New Dust Pro 3672 down draft table, 115v; Sand Pro 6 bulb sanding lights, 110v; Edge Bander; 2001 Holz-Her 1417 edge bander, 230v 3 ph; Clamp Racks; New Doucet NWR-8 clamp rack w/12 40" clamps; JLT 79K-6-DC door clamp, air; Dust collectors; New Nederman S-1000 dust collector w/shaker, bottom bin not included, 230/460v; New Stonewood SDC-4043A dust collector w/2 bags, 220v 1 ph; New Stonewood SDC-2042K dust collector w/1 bag, 115v; Pendu blower, 10" inlet, 8" outlet, 7.5 hp, 230/480v, 3 ph; 12" air lock includes transition duck work, both units sell off-site, ships from WI, will palletize and load for free up to 14 days after auction; Kreamer KTM B09/05 dust collector w/2 - 45 gallon drums, 5 hp; New Iron Bull 125A28, 1 ¼ yard dump hopper; Outside sawdust bin on legs w/blower and shaker on air, sells off-site; 2 = Typhoon DC-3250S double sided triple bag sawdust collection systems, 25 hp; 2 = Typhoon DC-3100 triple bag dust collection systems, a 10 hp & a 5 hp; 2 = Typhoon DC3050 double bag dust collection system, a 10 hp & a 5 hp; Powermatic PM1900-1 dust collector, 230v 1 ph; Jet DC-650 dust collector, 115/230v; Finish Equipment; Misc. Woodworking Equipment; Accurate 901-7001-302 measuring stand, 110v; Weinig measuring stand, 110v; 20 = New Suncast 30" x 60" carts on wheels; 3 = Tailift T-DF-111 pallet jacks, 5,500 lbs; Vestil AT-10 air scissor lift table, 19.5" x 39.5"; 2006 Vesti SWA-48-R-PMO pallet wrapper, 110v; Stenbergs air lift; Weaver wooden patterns for raised panel doors; Superior shaper mandrel, rebuilt; 4 New in box Superior 1" shaper mandrels; Misc. Weaver door jigs & clamps; 8' motorized turn table; Gravity roller conveyor 21 in x 10 ft; Live rolls, curve conveyor, belt driven; Flexible conveyor, 21 in x 25 ft; Motorized belt conveyor; Gravity roller conveyor 21 in x 90 ft. in section; Gravity roller conveyor 21 in x 70 ft. in section; Bucket of Pony spring clamps; Fairview 270 woodburner; Lumber; 80 bd. ft. cherry lumber, 10 ft long, 1 in surfaced, select & better; 80 bd. ft. cherry lumber, 8 ft long, 1 in surfaced, dark rustic;
Power Units; John Deere 6068 diesel power unit w/clutch, 6 cyl., 150 hp, Murphy control panel; Cummins QSB 6.7 diesel power unit w/clutch, 6 cyl., 260 hp, electronic common rail; Cummins 5.9 diesel power unit w/clutch, 6 cyl., 190 hp, Murphy control panel; Kubota 2203 diesel, 4 cyl, 40 hp, radiator, no clutch; John Deere 6068 TF275 Diesel w/clutch, also runs on NG, 120 hp, 27,000 hrs; Compressors; Polar Air air compressor, 5 hp, 24 cfm, on 80 gallon tank, 230v 3 ph; SPX Flow HPR35 air dryer, 115v; Hydraulics; Hydraulic system, includes 3'x4'x6' 500 gallon tank, 4 = 1 ½" double filter heads, 1 ¼' accumulator, 3520V 35 A 8 RH Vickers pump, 3520V 25 A 8 LH Vickers pump, 3520V A RH Vickers pump, 2520V 14A 14 RH Vickers pump, 3520V 35 A 12 LH Vickers pump, Vickers pressure comp. pump, 4 = 1 ¼" relief valves, 5 = ¾" relief valves, 3" x 8' return pipe, 2" x 40' return pipe; Gensets; John Deere 6081HF001 genset, 250 kw; Generators; Lima 360MDL0060 generator, 60 amp, 1800 rpm, 480v 3 ph; Marelli MSB250LB4 generator, 240 kw, 1800 rpm; Gillette BDN2-120-1-1 generator, 12000 watts, 120/240v; Electric; 4 New in box Leeson electric motors, model P6K3408370A, 5 hp, 230v 1 ph; Reliance phase converter, 20 hp?; North American 30 hp phase converter, 208/240v 3 ph; Dayton electric motor, 208/230/460v 3 ph;
Forklifts; 2001 H25D Linde forklift, diesel, 2 stage, 5000 lb. cap, 13,537 hrs; 1993 H40D-04 forklift, diesel, 3 stage, 7350 lb. cap, 31,835 hrs; Toyota 7FGU32 forklift, 3 stage, 6000 lb, LP gas, 12,670 hrs; Toyota 7FGU20 forklift, LP gas, 23k hrs, 5000 lb. lift; Trailers; 2018 Cargo Express trailer, 6' x 12' tandem axle, GVWR 7000 lb, rear swing doors, 1 side door, LED lights; Skid Steer Attachments; Abiattachments SR3 Command Series;
Liquidations - Special Notices; Chair manufacturing equipment; Nash 45, E601-B spindle sander; 2 = Goodspeed lathe; McKnight No. 1E seat scooper; Fox model 32 leg leveler; Misc. seat scooper cutters; 10 cases of Stanley 100 ft chalkline reel w/line level and 4 oz refill, 6 units per case; 10 = Dewalt DCKSS276C2BB drill/driver tool kits w/2-1.5 amp batteries, charger and carry bag; 5 = 26 x 54 2 tier carts, 750 lbs; 5 = 24 x 36 platform carts w/2 swivel wheels and brakes, 1000 lbs; 5 = 24 x 48 platform carts w/2 swivel wheels and brakes, 1000 lbs; 5 = 30 x 60 platform carts w/2 swivel wheels and brakes, 1000 lbs;
Auction Terms: Cash, Check or Credit Card w/valid ID. There will be a 7% buyer's premium on-site with an additional 3% for all credit card purchases. Different terms for Online bidding will apply. All items are sold "as is, where is with no warranty expressed or implied.
Auction Information: For complete and updated auction details and photo's as well as online bidding links please visit www.airworksauction.com or visit auctionzip.com auction ID 40056. (No internet = No problem) Request full auction listing from the Air Works Auction Office at P.O. Box 242 Kidron, OH. 44636 or Office Phone 330.749.4362.
Auctioneer Note: We are excited to offer new and good used woodworking equipment. Keep checking back this list will continue to grow until auction day.
Unloading Schedule
Wednesday Oct. 5th & Thursday Oct. 6th 8:00 AM to 4:00 PM
Air Works Auction Ph. 330-749-4362
PO Box 242 Fax 330-816-0006
Kidron OH 44636 office@airworksauction.com
This is an early partial list, we are expecting much more
Upcoming Auctions by Air Works Auctions...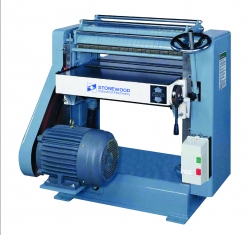 3rd Annual Woodworking Auction Oct. 7, 2022
13071 Emerson Rd. Apple Creek OH 44606
Auction Date
October 7th, 2022 to October 7th, 2022